About us
He Waka Tapu has been helping individuals
and the community for over 22 years. I was originally working for an organisation called 'Kia Pakari,' which was a Māori men's Stopping Violence programme. For various reasons that closed and I was approached by a woman called Philippa Joggings from Corrections. She asked if I'd be willing to take on a contract specifically targeted at working with Māori men and family violence.
After a year, we decided that to do this properly we needed a structure and an organisation. We set up a trust and I thought about the name and philosophy behind that trust. We came up with He Waka Tapu and here we are 20 years later.
It's come a long way, and that's down to a lot of good people. I realise that's what it's about, you have to have good people. People whose heart believes that people can change and want to change. I think if you do not have that sort of passion or belief then you are probably in the wrong job, because you are working with a very hard clientele. Giving people hope and helping them to plant the right seed so they can see a future for themselves is really what it's about.
That is what He Waka Tapu is about, the vision that you want to create and sailing towards your destination.
I believe that most people are like me. They want a good life.
I knew that it wasn't just about stopping violence or giving up alcohol and drugs, it was about giving people hope and so what we did is we used out Tikanga Māori and the values of that culture to help people identify what they really wanted out of life.
What was important? Was whanau important? Was children important? Did they want a better life?
- Daryl Gregory
Me mahi tahi tātou mo te oranga o te whānau
Working together for the wellbeing of family
The whakataukī is a wero for all kaimahi. Through the provision of evidence-based, mana-enhancing, timely and high quality support we will demonstrate that whānau are leading better lives. We then can know we are providing great services that are impacting positively for whānau.
He Waka Tapu is the go-to place for practical knowledge about whānau wellbeing.
He Waka Tapu's values talk to what is important to the Board and staff of He Waka Tapu who are responsible for carrying out the intention of our Strategic Plan. Furthermore, these values are what will guide understanding of how to embed and practice values through meaningful and robust communications:
Manaakitanga
We are respectful and show generosity and care for others, ensuring everyone's mana is enhanced
Whanaungatanga
We build relationships through shared experiences and working together
Rangatiratanga
We lead by inspiring others to see what is possible
Whakakoako
We all learn
Feathers

'Te tautoko kei muri' they carry the waka, rather than lead. Tawhiri guides the waka, he is the kaitiaki. The winds carry the waka giving safe journey for all embraced.

Taurapa

The waka is connected to the word and all external influences as koru come from te kore (the void lovings forth light and the beginnings).
Two figures symbolic of Rangi and Papa holding fast in te kore, they make the Taurapa, te tautoko kei muri.
Their minds intertwine in the void, as they journey guided by Te tautoko kei muri Rangi and pap create.

Colours

Black - Te kore (the void)
White - Nga Ātua, Kaitiaki (the gods)
Kokowai - Hine Tītama (birth/creation)
Black - (The cycle unfolds like a double spiral/infinity) Hine nui i te Pō. Maui tikitiki Ātārangi.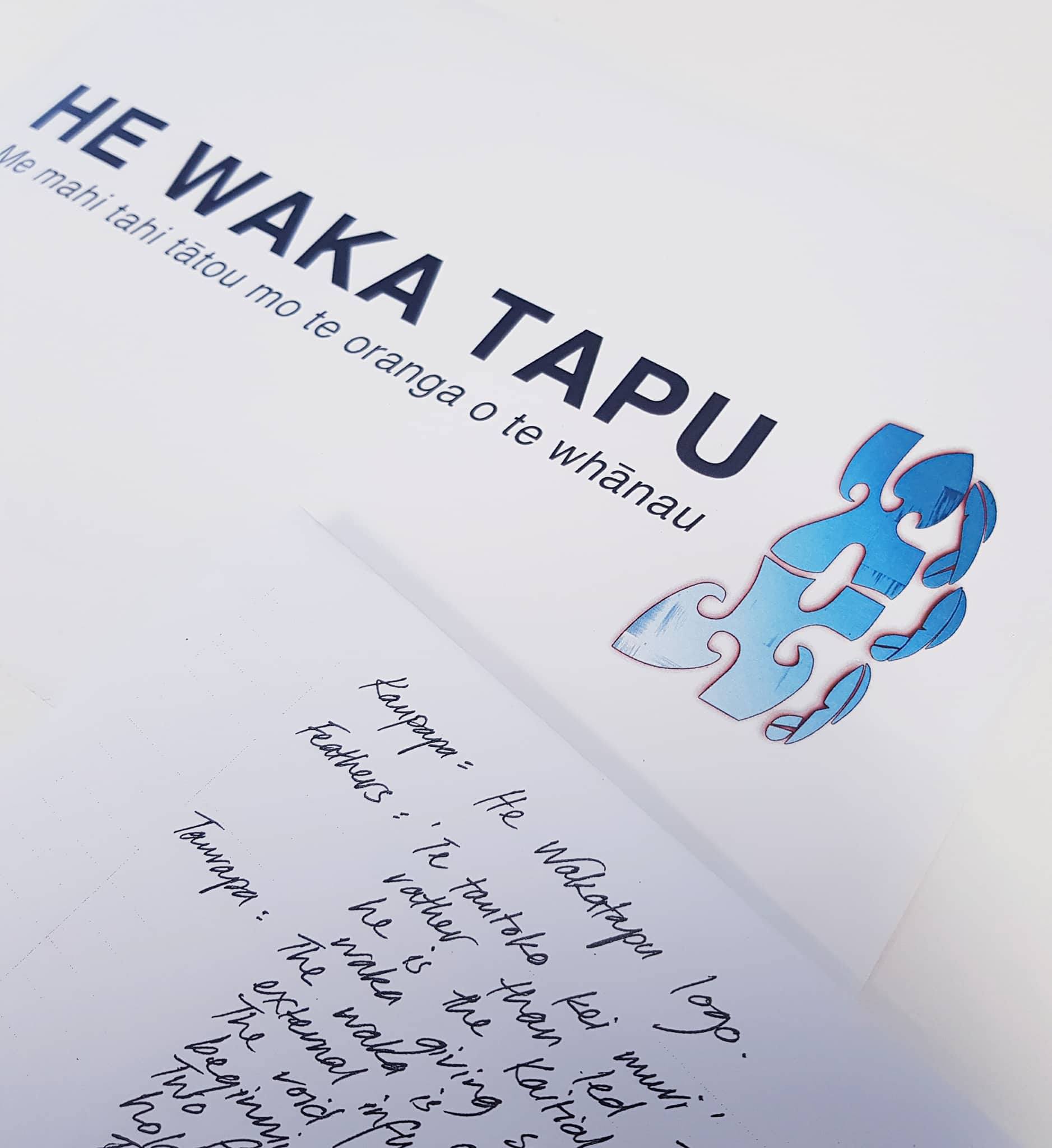 He Waka Tapu works with multiple agencies across a number of sectors to deliver a quality professional service to the betterment of our communities.
Either read the report in the presentation beneath or download to view